The Sundew
Bug fix | New downloadable version
---
Hello, this is Agnès, founder and solo developer at games studio 2054.
For early adopters, thank you very much for your support!
------ BUG FIX LIST ------
I uploaded a new version to fix some defects and bugs, in particular :
Problems with some hotspots (action on objects/characters) that in one particular case could disappear.
Problems with changing screen size when the screen was not a 16/9 screen. Playing with a 16:9 screen is always preferable if you can.
Some minor corrections (texts, character orientation, etc.)
I hope you enjoyed your game experience, don't hesitate to contact me if you have any problem :)
Unfortunately I didn't automate the download of the game, I hope to have the time to do it for a next update.

------ NEW INSTALL PROCESS ------
Linux players | Get the new version
download The Sundew | for Linux | v1.3 > through the Itch.io link you received with your purchase
unpack the archive > to the chosen location
double-click on TheSundew.x86_64 > to launch the game
Windows players | Get the new version
download The Sundew | for Windows | v1.3 > through the Itch.io link you received with your purchase
double-click on C:\Program Files (x86)\The Sundew\unins000.exe > uninstall the old version (see image below) (*) (**)

double-click on TheSundew-windows-setup-patch.exe > install and launch the game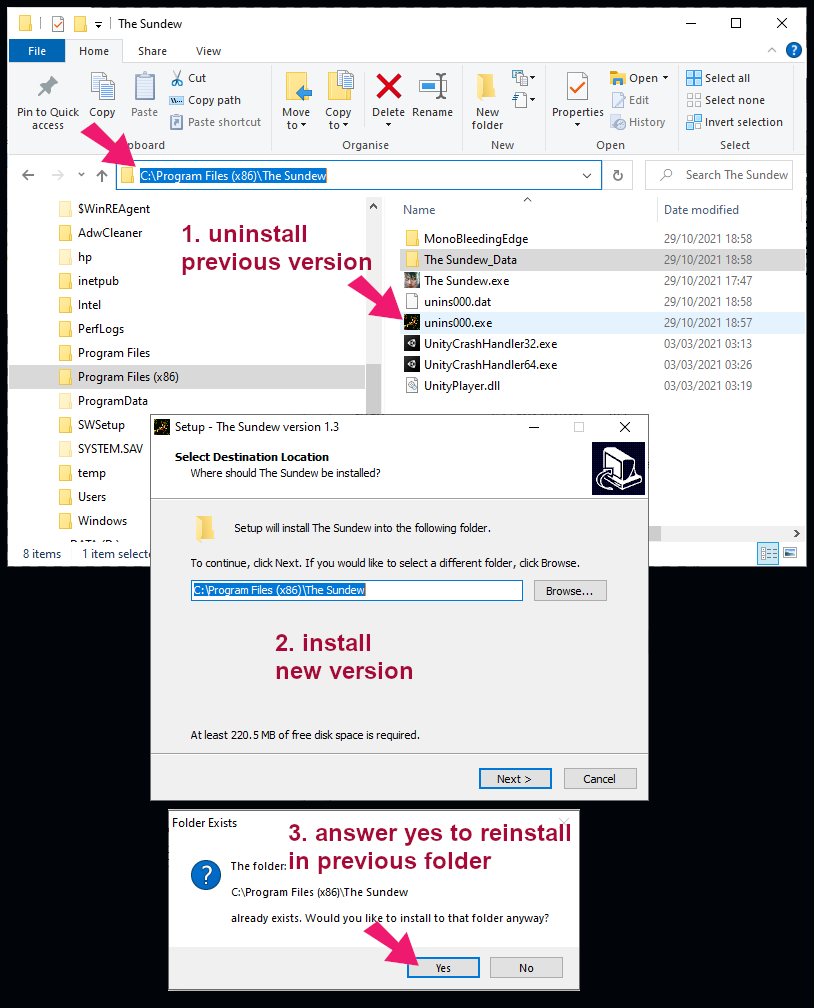 (*) or the location you chose for the first installation
(**) do not remove the folder C:\Program Files (x86)\The Sundew\The Sundew_Data
------ SUPPORT ------
Once again, don't hesitate to contact me if you have any problem, here:
contact@2054games.net or on Twitter